Case Manager of the Month: January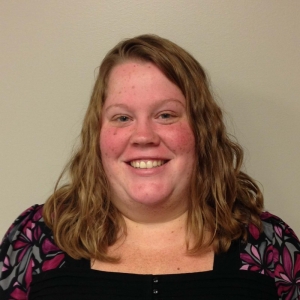 Michele Mucha was nominated for this award by Scarlett Woods, the mother of an individual that Michele supports.
Scarlett wrote, "Michele goes above and beyond as a case manger because she is genuinely interested in my daughter as a person. She has spent time with us going over how to best utilize my daughter's waiver hours and helped me to adjust them where necessary.
"Michele takes the time to visit with my daughter on her visits and my daughter, who is nonverbal, responds to Michele's smiles and warm nature.
"I was apprehensive when our old case manager left the position, as I have had a few negative experiences over the years with case managers or new staff that were not personally interested in knowing our family and what are our needs and wishes for our daughter's future. Michele is interested and helpful; if she doesn't know an answer to a question, she will do research to try and provide the best answer.
"We appreciate Michele greatly. She is a joy to work with, and as a parent of an individual with special needs I feel that in many instances I am not heard. Michele listens and I am comforted by knowing that she is always looking out for my daughter's best interest."
Michele writes, "Hi! My name is Michele Mucha. I have been a case manager with IPMG for over 2 years. While this job can certainly be challenging at times, I love being able to interact with and advocate for the individuals on my caseload.
"I was born and raised in Northwest Indiana. I received my Bachelor's in Behavioral Science from Purdue University North Central in 2005. My first work in the field was at a summer camp for individuals with varying diagnoses. I actually cried my first week there and thought there was no way I could make it through the week. I ended up working five straight weeks, and that experience kindled my love for the field of developmental disabilities. Since then, I have worked direct care, been a QDDP, and been a Branch Director for an agency.
"I have been married to my husband, Nick, for 4 years. When I met Nick, I was a single mom to Maddy, now 13. Together, we have a son, Jackson, who is 3. Nick is my best friend. He keeps me grounded and organized. I joke that I have to check with my 'planner' before committing to anything, because he is always on top of our busy life! Maddy is our cheerleader and aspiring librarian. She loves to read and can get lost in a book. In that way, she reminds me of myself. Parenting a teenager can be rough, but I am also amazed as I watch her turn into a young lady before my eyes. Jackson is into all things trains and Menards. He is diagnosed with a developmental delay and apraxia. Jackson is the sweetest and most loving boy. Everyone who meets him loves him. I am amazed daily at the strides he is making in his speech, with the help of developmental preschool and speech and language therapy. My family is my joy, and while the rate at which time flies is heartbreaking at times, I love watching every new stage and accomplishment my kids experience.
"As if our lives weren't already busy enough, my husband and I recently decided to become college students again, this time at a school called theROAR, for which our church, Living Stones Church, is the host campus. We take once course per month, meeting one night per week for two and a half hours. At the end of two years, we will go on a mission trip and will earn a Certificate of Ministry. This experience has been amazing thus far, and has brought me to a whole new level of time discipline.
"Since coming to IPMG, I have jokingly (but not really) told several people that I am ruined, in the best way, from working a 9-5 office job again. The flexibility and independence offered at IPMG are priceless to me, especially having young children. I love that I can take my children to the doctor myself and attend events and field trips that I likely would not be able to elsewhere. I love that I am not 'micromanaged,' but I have all the support that I need to be successful. It absolutely makes my day to hear about the accomplishments of the individuals on my caseload, and I am so proud to get to have a part in their lives and helping them achieve their goals and dreams!"
If you would like to nominate your Case Manager for this award, please contact us or send an email to customerservice@gotoipmg.com.