Case Manager of the Month: June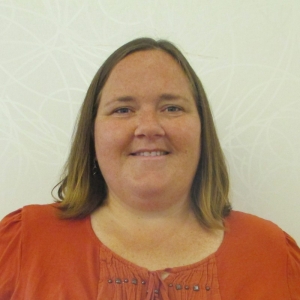 Jennifer Hauber was nominated for this award by Angie B., the mother of an individual supported by Jennifer.

Angie wrote, "I would like to nominate Jennifer Hauber for Case Manager of the Month. My son is relatively new to the waiver (January 2016). Before he was even on the waiver, and full force since January 6th, we have been trying to secure information for a wheelchair lift for our vehicle for his power wheelchair. We were met frustration after frustration. Since Jennifer has been my case manager, around May 2016, she has not only assisted with getting this process moving after so many failed attempts to get information or return calls from vendors, but she has also been instrumental in a Medicaid debacle that occurred where my son was erroneously dropped and we had to start over. Jennifer has worked tirelessly to calm me, ensure that all will be ok, meet me wherever needed to get forms signed, information, etc, and has made several suggestions and helpful hints for dealing with the waiver process and my son's disability. Jennifer has made my life so much easier these past few months. She returns calls and emails promptly, follows up, and does so all while providing a calming, 'we got this' motivation to believe it will all be okay. Please consider Jennifer for Case Manager of the Month. I don't know where we would be without her help."

Jennifer writes, "Greetings! That is the way that I start every email that is sent to people with whom I work. I believe that every day we should try to hold to a positive attitude and that we can handle it. My favorite phrase is "It's all good." We can make anything good even during the darkest times, sometimes in small steps, but one step at a time.

"I received my Bachelors in Sociology from Purdue in 1999. I started working in the field of human services in 1992. I began working as a direct care staff on the afternoon shift and going to school during the day. During my career of supporting people with needs, I held many titles in my professional life. These included residential support staff, work shop staff, and work shop supervisor. After graduation, I held titles such as group home manager and QDDP. This all led to where I am today, working as a Case Manager for IPMG since September 2006, which was by far the best choice that I have made in my professional career.

"I am a mom of 2 wonderful girls: Lydia (15) and Camille (12). They both take the majority of my free time each week, and I wouldn't have it any other way. They are only young once and my intention is to spend as much time with them at their activities that they like to do. Lydia is part of the high school color guard, and with the season in full swing, she performs almost every weekend. Camille is part of a travel softball team and her season really begins in late March. However, practices are indoors in the winter months. Some weeks, we have something to do every night. During the not so busy times, I enjoy getting together with friends and playing card games.

"As a single mom, I find it tricky sometimes to make everything fit together, and I am overly blessed to have such wonderful family and friends to support me. Somehow the job always gets done. I find this true even in my job with IPMG: it takes a team of people to get the job done. Hopefully, for years to come I can continue to motivate all people to work together and to have a common goal. Every day should be an "It's all good" kind of day."

If you would like to nominate your Case Manager for this award, please contact us or send an email to customerservice@gotoipmg.com.