Case Manager of the Month: November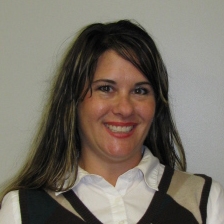 November 2017: Jodi McKenna
Jodi was nominated for this award by Arlene Cocke, the sister and guardian of an individual that Jodi supports. Arlene wrote, "I have never met Jodi McKenna in person. I reside in Alabama. Surely hope to one day as she has made it possible, along with a great group of women at ESARC, to make my Sister's life far better than it has ever been.
"Jodi made it possible to move [my sister] to an apartment, removing her from [a situation that was not ideal]. Jodi has worked effortlessly ever since, keeping me informed of all meetings, conference calls, changes, additions, and small situations that arise with every day living, and [my sister] can be a real handful!!!! Not living close by, I am kept in the loop, as all know, I am only a call away. This gives me great peace.

"[My sister] may not be aware she has a real life Guardian Angel caring for her! I cannot thank Ms. McKenna enough, because it all starts from her!"
Jodi writes, "Hi! My name is Jodi McKenna. I have been a case manager with IPMG for the past three years. I absolutely love what I do because of the people I work with. I look forward to what each and every work week brings to me. I learn a wealth of information each and every single day so that I can pass it on to whom might need that vital piece of what I learned to help others.
"I received my Bachelors in Psychology in 1999 from IPFW. I chose to put my career on hold for several years raising my children while working part time with individuals who had all different types of diagnoses. I provided direct support as a behavioral health tech in several different day programs in the Fort Wayne area. We worked together creatively whether it be an entire dance to a song or a piece of artwork out of everyday materials. I also shared my golden retrievers who worked with me as Pet Therapy dogs providing peace, relaxation, and a nonjudgmental approach encouraging open communication for some, and a more active lifestyle for others. The individuals I worked with ranged from the ages of 18 years and older. I also worked in a group home for a year with males who were dual diagnosed with a mental illness and addictions. When my youngest was eleven years old, I decided it was time to begin my career working full time, jumping in with both feet. I had my sights set on IPMG four years ago and took a case management position with individuals who were diagnosed with a mental illness until I got the call from IPMG. For the first time since earning my degree, I felt ready to finally embark on my journey I began many years ago. That journey was just simply to help people.
"My free time includes my family, being a wife, mom, and soon to be grandma. I will be married to my loving husband of 20 years next summer. He is my best friend and the strongest man I know. He has survived cancer three times. His positive attitude is next to none and we love to just talk and laugh about what life brings us. I have two boys who keep me very busy. Mason is my youngest and is 15 years old. Mason is a Freshman and is full of life and energy. He gets his wiggles out by running. I find myself traveling all over the state of Indiana just to watch him run 18 minutes. Every minute I watch him run is worth every mile I drive to watch him. Michael is my oldest and is 17 years old. Michael loves the game of football and is a Junior. His love for the game is on the sidelines as a coach. He is the first student coach of his high school and stays just as late after the games breaking down film as the paid coaches. He also works part time and recently got his driver's license. I went from Taxi Mom to staying up late until his car drives home safely after work or football. I also have a beautiful step-daughter who is 23 years old and a recent grad from IPFW, earning her degree in communications. Her name is Susan and she is married to our wonderful son-in-law, Vince. Susan is the daughter I never had, and we have the best girl chats. Our entire family could not be more excited about our new granddaughter coming in January. Susan and Vince will be wonderful parents.
"I love the flexibility of being a case manager with IPMG. I can run kids all over the state watching them grow and learn with each and every activity they are involved in. I do find myself working late or early so that I can stay connected with my family but that is what drew me to IPMG. I see the many strides my individuals on my caseload make every single day. The families I work with network leads on what is helpful for them and share information to me so that I can provide feedback on what I've seen and what may help them and others. I find myself in meetings saying, "We can always try it and tweak as we go. We'll never know unless we ask or try." There is no better feeling for me when I see the smiles when one receives a wheelchair to help them be more independent or obtain their own apartment working part time and living their dream more independently. Simply helping others is what my journey was about but the individuals I have worked with have taught me so much more through their strength, goals and desires."
If you would like to nominate your Case Manager for this award, please contact us or send an email to customerservice@gotoipmg.com.