Case Manager of the Month: October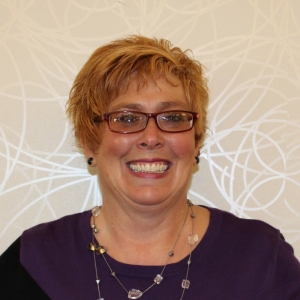 Lisa Rhoades was nominated for this award by Jackie Wahli, Executive Director at A.I.D. Residential Services. In her nomination, Jackie wrote, "I would like to nominate Lisa Rhoades for Case Manager of the Month. She goes above and beyond for all of the individuals she serves. Her follow up on issues is exceptional. She is a true asset to the teams she is on."
Lisa writes, "Hi, I'm Lisa Rhoades. I grew up in Fort Wayne, Indiana and received my Bachelor's degree in Music Therapy from IPFW. I completed an internship with Bethesda Lutheran Homes in Watertown, Wisconsin, and then went to work for Green River Comprehensive Care in Henderson, Kentucky as a Music Therapist. I enjoyed my time working there for about 7 years.
"In 2009, I moved back to Fort Wayne and got a job with ResCare North. Back then, Music Therapy positions were few and far between. I assisted the residents of the Ft. Wayne Center and Oak Meadows Learning Center to transition into supported living. I became a Case Manager with ResCare in 2003, and moved to Trinity Case Manager in 2004. I then started with IPMG on Sept. 1, 2006.
"I currently live in Ft. Wayne with my fiancée and 6 cats. In my free time, I enjoy reading, my cats, and Jimmy Buffett. I consider myself a Parretthead and try to see one of his concerts every year.
"It is an honor to be nominated for CM of the month. My favorite part of my job is being able to see how the individuals I support have grown and made progress over the years. I have had some of my caseload for over 10 years. It is satisfying to see how they have changed and grown over the years. I am currently working with individuals in and around the Ft. Wayne area as a mastery Case Manager. The flexibility of being a Case Manager is also a bonus!"
If you would like to nominate your Case Manager for this award, please contact us or send an email to customerservice@gotoipmg.com.