Community Day at Chasing Dreams Run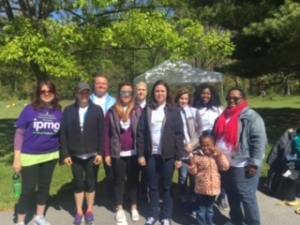 On Sunday, May 7th, a team of IPMG employees volunteered at the Chasing Dreams Dream Run - 5K, Family Walk & Kids Dash at Woodland Park in Portage.
It was a beautiful sunny day! We set up for the after party & resource fair, helped hand out water, set up for different events, and anything else that was needed.
IPMG volunteers included Amy Ormsby, Ashlyn Cole, Jamie Williams, Kane Bentz, Lauren Estes, Meg McBrayer, Royce Campbell (as well as her daughter and granddaughter), and Angela Grimmer.
IPMG Case Manager Chelsea Burrell participated in the 5K, and then did the walk with Gina Smith, IPMG Manager.