Community Day at First Choice For Women in Muncie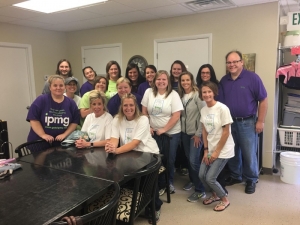 On Friday, May 12th, a team of IPMG employees spent the day volunteering at First Choice For Women in Muncie
(www.firstchoiceforwomen.org)
First Choice for Women offers the following services free of charge to those who need them:
Pregnancy Tests
Options Counseling
Parent Care
Bible Study
Practical Needs
Abstinence Education
Post-Abortive Recovery
We cleaned, folded clothes, did laundry, bleached toys, made copies, took a tour, and laughed. Leslie Hatcher is the center director and she assisted with the tour and telling us about this agency. Overall, it was a wonderful day.
Those that attended included Erin Kreigh, Marcia Lienemann, Melissa Harwood, Holly Hicks, Marie Luce, Bridget Serrani, Michelle Shane, Amber Crist, Christina Patrick, Elizabeth Piazza, Jinny Beard, Kyle Jackson, Natalie Anderson, Melaine Smith-Sanders, Melissa Cartwright, Steven Buckles, Lyndsay Gadbury, and Kim Heckbar.