Community Day at Halloween Dance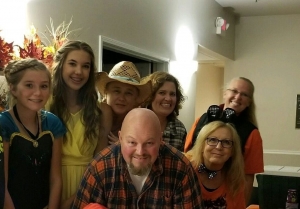 On Friday October 27, 2017 for the fifth year in a row, several IPMG employee owners assisted with a Halloween dance that is typically coordinated monthly by a group of parents in the Floyd and surrounding counties for individuals receiving various types of services. In the past, the team has volunteered at a Halloween Dance and several Christmas dances.
IPMG volunteers included our team's volunteer coordinators, Carol Marion and Tammy Ratts, who are Case Managers. Also assisting the night of the dance were Case Manager Mandy Norton, Manager Dana Kean and her husband Tom; and Tammy's daughter Abigail and a friend Natalie.
Preparation for the event included deciding upon and purchasing the snacks and drinks for up to 150 guests. On the day of the dance, volunteers arrived before guests to prepare the snacks and pour drinks. Since IPMG volunteers took care of the snacks, the parent volunteers, who usually do drinks and snacks, were able to interact with all the guests, dance and take pictures. After the snacks were distributed, the volunteers agreed that the extra drinks and snacks would be donated for use at the next dance.