Community Day Making Cards for Veterans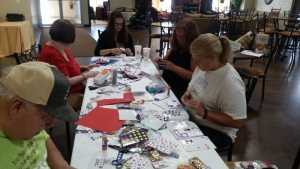 A team of IPMG employee owners gathered on 3 different days to create greeting cards for local Veterans. A total of 367 cards were made by the team to be delivered to local Veterans for upcoming Veteran's Day on November 11th. Team co-captains, Amber Kinzie and Kelley Kearney, organized this event for their team.
The following participated in the event this year: Hope Ritcher, Amber Kinzie, Kelley Kearney, Leda Fortier, Alex Ade, Alicia Garber, Shannon Myers, Maggie Ensor, Mike Luce, Cheryl Harmon, Christy Hicks, Ariel Ivas, Michelle Ringstrom, Desirae Brown and Cassie Balk.