Community Day with Journey of Hope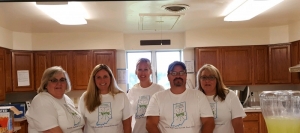 On July 26, 2017, (L-R) Debra Carter, Paula Egan, Carlie Webster, Chris Gackle and Stacey Bennett served dinner to bicycle riders from Journey of Hope at Happiness Bag in Terre Haute, Indiana.
Journey of Hope seeks to raise awareness and money for people with disabilities by riding bicycles cross country. There are 40 young men riding bicycles over 4,000 miles seeking to raise $700,000 for people with disabilities. They stopped in Terre Haute on this date after riding 110 miles from Vandalia, IL to Terre Haute, IN. Following dinner was a Friendship Visit/dance party with some of the individuals they are raising money to support.