Holiday Luncheon and Community Service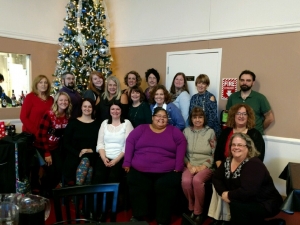 On December 1st, the team of Case Managers supported by Dana Kean, Manager and Denice Davies, Manager of Field Support, along with Karen Brummet- Ferguson, IPMG's CEO, met for a holiday luncheon at the French Lick Winery.
After lunch, the team participated in a gift exchange game as well as a community service project. Carol Marion, who headed up her second team community service project this year, had obtained plastic bag strips that were cut up by a local nursing home. Carol explained that it takes up to 375 plastic bags made in to strips to put together one mat that are donated to a homeless shelter. She showed those present at the luncheon how to tie strips together so that they could be rolled in to balls used to make the mats.