Case Manager of the Month
December 2017: Kelie Killu
Kelie was nominated by Angela McGinnis, the mother of an individual that Kelie serves. Angela shared that her case management experience has not always been positive in the past, and noted that she knows she can be difficult to please because she is picky when it comes to her son. Angela said that Kelie turned that experience around. She stated, "Kelie goes above and beyond what is expected to find resources for my son. Kelie shows that she truly cares about her clients and I feel that she has become an extended member of the family."
Kelie writes, "Hi! My name is Kelie Killu. I have been a case manager with IPMG for over 10 years. I absolutely love my job, even when under stress; it brings me joy to help those that I serve.
"I was born and raised in the Terre Haute/Brazil area. I received my Bachelors in Criminology with a minor in Psychology in 2001 from Indiana State University. While in college and directly following graduation, I worked as a direct care staff and house manager for a residential provider in Terre Haute. I was offered a position as a Program Director with the same company and quickly moved to Indianapolis in December 2005. I worked on the residential side as a Program Director until February 2009 when I started with IPMG.
"Outside of work I am a wife, mom and 'nana' (yes, I have grandkids). I have been married for 9 years to the love of my life, my wonderful husband, Winston. Prior to meeting him, I was a single mom of two amazing kids. My beautiful daughter Lyric (22) is working toward her goal of becoming a teacher/school administrator through life experience and college classes. My handsome son JaCoi (15) is a sophomore at Cathedral High School. He loves playing basketball, throws shotput and discus for the track team and is a strong advocate for equal treatment of people of all races, religions etc. both in school and out. Winston was the missing piece to our family's puzzle as well as his daughter Lena (26) who now has three little ones (2 girls and a boy), so yes! I am 'Nana' and I love it!
"I am a HUGE Steelers fan and I the majority of my Sunday afternoons waving my Terrible Towel with a group of friends while watching the games on TV. I also enjoy couponing and teaching others to save as much money as they can when they shop!
"IPMG allows me to do what I love, which is helping others with the added flexibility of working from home and being able to schedule my day to make myself available to our family's needs. I have had many jobs in my life and I can honestly say this is by far my favorite. I have learned so much during my time at IPMG and have gained some valuable friendships along the way!"
If you would like to nominate your Case Manager for this award, please contact us or send an email to customerservice@gotoipmg.com.
November 2017: Jodi McKenna
Jodi McKenna was nominated for this award by Arlene Cocke, the sister and guardian of an individual that Jodi supports. Arlene wrote, "I have never met Jodi McKenna in person. I reside in Alabama. Surely hope to one day as she has made it possible, along with a great group of women at ESARC, to make my Sister's life far better than it has ever been.
"Jodi made it possible to move [my sister] to an apartment, removing her from [a situation that was not ideal]. Jodi has worked effortlessly ever since, keeping me informed of all meetings, conference calls, changes, additions, and small situations that arise with every day living, and [my sister] can be a real handful!!!! Not living close by, I am kept in the loop, as all know, I am only a call away. This gives me great peace.
"[My sister] may not be aware she has a real life Guardian Angel caring for her! I cannot thank Ms. McKenna enough, because it all starts from her!"
Jodi writes, "Hi! My name is Jodi McKenna. I have been a case manager with IPMG for the past three years. I absolutely love what I do because of the people I work with. I look forward to what each and every work week brings to me. I learn a wealth of information each and every single day so that I can pass it on to whom might need that vital piece of what I learned to help others.
"I received my Bachelors in Psychology in 1999 from IPFW. I chose to put my career on hold for several years raising my children while working part time with individuals who had all different types of diagnoses. I provided direct support as a behavioral health tech in several different day programs in the Fort Wayne area. We worked together creatively whether it be an entire dance to a song or a piece of artwork out of everyday materials. I also shared my golden retrievers who worked with me as Pet Therapy dogs providing peace, relaxation, and a nonjudgmental approach encouraging open communication for some, and a more active lifestyle for others. The individuals I worked with ranged from the ages of 18 years and older. I also worked in a group home for a year with males who were dual diagnosed with a mental illness and addictions. When my youngest was eleven years old, I decided it was time to begin my career working full time, jumping in with both feet. I had my sights set on IPMG four years ago and took a case management position with individuals who were diagnosed with a mental illness until I got the call from IPMG. For the first time since earning my degree, I felt ready to finally embark on my journey I began many years ago. That journey was just simply to help people.
"My free time includes my family, being a wife, mom, and soon to be grandma. I will be married to my loving husband of 20 years next summer. He is my best friend and the strongest man I know. He has survived cancer three times. His positive attitude is next to none and we love to just talk and laugh about what life brings us. I have two boys who keep me very busy. Mason is my youngest and is 15 years old. Mason is a Freshman and is full of life and energy. He gets his wiggles out by running. I find myself traveling all over the state of Indiana just to watch him run 18 minutes. Every minute I watch him run is worth every mile I drive to watch him. Michael is my oldest and is 17 years old. Michael loves the game of football and is a Junior. His love for the game is on the sidelines as a coach. He is the first student coach of his high school and stays just as late after the games breaking down film as the paid coaches. He also works part time and recently got his driver's license. I went from Taxi Mom to staying up late until his car drives home safely after work or football. I also have a beautiful step-daughter who is 23 years old and a recent grad from IPFW, earning her degree in communications. Her name is Susan and she is married to our wonderful son-in-law, Vince. Susan is the daughter I never had, and we have the best girl chats. Our entire family could not be more excited about our new granddaughter coming in January. Susan and Vince will be wonderful parents.
"I love the flexibility of being a case manager with IPMG. I can run kids all over the state watching them grow and learn with each and every activity they are involved in. I do find myself working late or early so that I can stay connected with my family but that is what drew me to IPMG. I see the many strides my individuals on my caseload make every single day. The families I work with network leads on what is helpful for them and share information to me so that I can provide feedback on what I've seen and what may help them and others. I find myself in meetings saying, "We can always try it and tweak as we go. We'll never know unless we ask or try." There is no better feeling for me when I see the smiles when one receives a wheelchair to help them be more independent or obtain their own apartment working part time and living their dream more independently. Simply helping others is what my journey was about but the individuals I have worked with have taught me so much more through their strength, goals and desires."
If you would like to nominate your Case Manager for this award, please contact us or send an email to customerservice@gotoipmg.com.
October 2017: Lisa Rhoades
Lisa was nominated for this award by Jackie Wahli, Executive Director at A.I.D. Residential Services. In her nomination, Jackie wrote, "I would like to nominate Lisa Rhoades for Case Manager of the Month. She goes above and beyond for all of the individuals she serves. Her follow up on issues is exceptional. She is a true asset to the teams she is on."
Lisa writes, "Hi, I'm Lisa Rhoades. I grew up in Fort Wayne, Indiana and received my Bachelor's degree in Music Therapy from IPFW. I completed an internship with Bethesda Lutheran Homes in Watertown, Wisconsin, and then went to work for Green River Comprehensive Care in Henderson, Kentucky as a Music Therapist. I enjoyed my time working there for about 7 years.
"In 2009, I moved back to Fort Wayne and got a job with ResCare North. Back then, Music Therapy positions were few and far between. I assisted the residents of the Ft. Wayne Center and Oak Meadows Learning Center to transition into supported living. I became a Case Manager with ResCare in 2003, and moved to Trinity Case Manager in 2004. I then started with IPMG on Sept. 1, 2006.
"I currently live in Ft. Wayne with my fiancée and 6 cats. In my free time, I enjoy reading, my cats, and Jimmy Buffett. I consider myself a Parretthead and try to see one of his concerts every year.
"It is an honor to be nominated for CM of the month. My favorite part of my job is being able to see how the individuals I support have grown and made progress over the years. I have had some of my caseload for over 10 years. It is satisfying to see how they have changed and grown over the years. I am currently working with individuals in and around the Ft. Wayne area as a mastery Case Manager. The flexibility of being a Case Manager is also a bonus!"
If you would like to nominate your Case Manager for this award, please contact us or send an email to customerservice@gotoipmg.com.
September 2017: Leslie Cox
Leslie was nominated for Case Manager of the Month by two different parents. IPMG is so glad she is a part of our team!
"Leslie has been my son's case manager for a number of years. She is always professional, kind, and extraordinarily helpful. I try to keep up with all things Medicare, Medicaid, Section 8, etc., but there are times I need to obtain information or clarify what I know or have in my records. On several occasions, Leslie has put me in contact with individuals, one at IPMG, who were very helpful on select matters. On other occasions, Leslie has been quite of assistance when I needed help understanding how various agencies really work. She answers all our questions promptly and steers us to individuals/organizations who can answer our questions if she cannot, which is rare. My son, Christian, and I greatly appreciate all that Leslie brings to improve Christian's life." -John Heiligenstein
"I would love to nominate my daughter's case manager, Leslie Cox, for case manager of the month. This nomination is long overdue, because Leslie is such an important part of making sure things run smoothly with Stephanie's program at The Arc of Greater Boone County. Her calm demeanor and easygoing nature make her a wonderful ally for Steph, but I have come to rely on her for guidance and support as well. She deserves all the accolades she can get, not only for all she does on Steph's behalf, but for always being an ear for me to vent to when I am frustrated with any given situation at the time. We cannot express how much we value Leslie as our case manager, but more importantly, as our friend." - Michelle Burdine
Leslie writes, "Hi, I'm Leslie Cox, and I have been with IPMG since December 2011. I received my bachelor's degree in English teaching from Ball State, but ended up as a teacher in a private children's facility in Champaign, Illinois. This was my first experience working with children with disabilities. I was able to get my certification to teach special education in Illinois, and worked there for about 7 years, leaving as the head teacher/QMRP. I loved my time there, and we were able to open an off-site school during the years that I worked there.
"I have had some moves and other life experiences since then and have lived in Texas and Delaware. I taught English for a little while and worked in law enforcement and security. When I returned to Indiana several years ago, I wanted to return to work that I really enjoyed: working with individuals with special needs.
"It's really an honor for me to be nominated for CM of the month. My favorite part of my job is the personal interaction with the individuals and families I serve. They are fantastic and make my job a pleasure. It gives me great satisfaction when I can help them get the services they need. I'm currently working with Individuals in Indianapolis and surrounding areas.
"I spend a lot of time doing paperwork, but when I do have free time, I have lots of hobbies. I love reading, listening to audio books, playing golf, watching movies, walking my dogs, doing puzzles of all kinds, and playing old school video games. I have a son who is now 21, and he is receiving waiver services and VR support. He just moved to his own place and is receiving supports to live independently. After a lot of hard work, he finally got his driver's license and is looking for a job. In the meantime, he is working a volunteer job to gain experience. He enjoys and spends most of his time skateboarding, scootering, and just recently got back into rollerblading. He also really enjoys listening to music and watching music videos."
If you would like to nominate your Case Manager for this award, please contact us or send an email to customerservice@gotoipmg.com.
August 2017: Kelly Dobson
Kelly was nominated by Laurie Ross, the mother of an individual Kelly serves. Laurie wrote, "Kelly is great to work with on our waiver program. She has a great personality in that she is friendly, caring and she is professional, efficient and knowledgeable. Even when we make big changes to our plan, she handles all the special requests well. Keeping up with my special needs child can be exhausting but Kelly helps me get through."
Kelly writes, "My name is Kelly Dobson and this is one part of what defines me as a person, my name. However, there are many other things that make up ME. I am a wife to my husband of 18 years, as well as a mother to two beautiful girls. I am a graduate from Saint Joseph College in Rensselaer. I graduated with a Bachelor's of Science in Elementary Education. This is my journey based upon the labels that are visible to others.
However, the other part of ME is not visible to others unless I have told them about it.
"It all started when I completed one year as a teacher's aide and then taught for two years in fourth grade. During this time, I learned a lot about patience and looking for ways for children to expand their thinking. This practice turned into more when talking with parents of the children. I have always looked at ways to assist in improving one's thinking by taking what they know well and expanding it into more complex situations. I have also never accepted the words 'this cannot be done' or 'this is too hard.' Yes, if you look at the big picture, something may look like it is not an achievable task, but when you break things down, all things are achievable no matter who you are or what label you have.
"I have applied this skill/mindset throughout my career as a case manager for over a year now. Yes, everyone has a label, but it is the group around you that assists with achieving things far above the labels. So, I like to say, 'do not let a label interfere with achieving what you want in life.' Use others around you to assist in accomplishing your dreams through hard work, never giving up, and keeping yourself moving forward, even if you stumble. DO NOT STOP yourself from doing what you want in life."
If you would like to nominate your Case Manager for this award, please contact us or send an email to customerservice@gotoipmg.com.
July 2017: Kim Griffin
Kim Griffin was nominated by both an anonymous parent and Lisa Felsman, State System of Care Mentor/Wraparound Supervisor at Centerstone of Indiana.
In her nomination, Lisa wrote, "I just wanted to give a huge SHOUT OUT to Kimberly Griffin, one of your AMAZING case managers. I had the privilege of being part of a meeting that she facilitated today. I represented Centerstone, and she was there representing IPMG. I cannot tell you how impressed I was with all of the services that she has managed to get connected to this family with extremely high needs, and how kindly and sensitively she directed the meeting. She hit the spots that needed to be addressed, and incorporated all members of the team into the discussion.
"I can't give her enough praise and wanted to be sure to reach out to IPMG and give her some recognition for what wonderful work she is doing in the community! Please let her manager know that Kimberly is of great value in our community!"
An anonymous parent wrote this about Kim, "Our son has, at various times, had angels play a part of his life. Thanks for being one of them."
Hello, my name is Kimberly "Kim" Griffin. I was blessed to have grown up in a family of seven in Greensburg, Indiana, graduated from Greensburg High School, followed by a Bachelor's degree and Master's Degree in Education from Indiana Wesleyan. My husband of 31 years and I live in Fayette County. Our family consists of our son/daughter-in-law and daughter/ son-in-law and their children. As a family, we enjoy playing games, camping and traveling together.
My career has always centered on helping others in the social service field. I worked for the State of Indiana (FSSA/Child Protection Services) and as a QMRP for a residential provider before joining the IPMG team almost 4 years ago. I serve individuals in Fayette and the surrounding counties. I enjoy working in case management as I love to meet new people and have a passion to see that each individual I serve is able to live their life to the fullest.
As a mastery level case manager, I have been given the opportunity to complete the intake process for individuals who are new to the waiver, shadow new case managers during their first meetings, and cover caseloads to help ensure the individuals served by IPMG are getting the supports they need. The flexibility of being a case manager is priceless!
If you would like to nominate your Case Manager for this award, please contact us or send an email to customerservice@gotoipmg.com.
June 2017: Jennifer Hauber
Jennifer was nominated for this award by Angie B., the mother of an individual supported by Jennifer.

Angie wrote, "I would like to nominate Jennifer Hauber for Case Manager of the Month. My son is relatively new to the waiver (January 2016). Before he was even on the waiver, and full force since January 6th, we have been trying to secure information for a wheelchair lift for our vehicle for his power wheelchair. We were met frustration after frustration. Since Jennifer has been my case manager, around May 2016, she has not only assisted with getting this process moving after so many failed attempts to get information or return calls from vendors, but she has also been instrumental in a Medicaid debacle that occurred where my son was erroneously dropped and we had to start over. Jennifer has worked tirelessly to calm me, ensure that all will be ok, meet me wherever needed to get forms signed, information, etc, and has made several suggestions and helpful hints for dealing with the waiver process and my son's disability. Jennifer has made my life so much easier these past few months. She returns calls and emails promptly, follows up, and does so all while providing a calming, 'we got this' motivation to believe it will all be okay. Please consider Jennifer for Case Manager of the Month. I don't know where we would be without her help."

Jennifer writes, "Greetings! That is the way that I start every email that is sent to people with whom I work. I believe that every day we should try to hold to a positive attitude and that we can handle it. My favorite phrase is "It's all good." We can make anything good even during the darkest times, sometimes in small steps, but one step at a time.

"I received my Bachelors in Sociology from Purdue in 1999. I started working in the field of human services in 1992. I began working as a direct care staff on the afternoon shift and going to school during the day. During my career of supporting people with needs, I held many titles in my professional life. These included residential support staff, work shop staff, and work shop supervisor. After graduation, I held titles such as group home manager and QDDP. This all led to where I am today, working as a Case Manager for IPMG since September 2006, which was by far the best choice that I have made in my professional career.

"I am a mom of 2 wonderful girls: Lydia (15) and Camille (12). They both take the majority of my free time each week, and I wouldn't have it any other way. They are only young once and my intention is to spend as much time with them at their activities that they like to do. Lydia is part of the high school color guard, and with the season in full swing, she performs almost every weekend. Camille is part of a travel softball team and her season really begins in late March. However, practices are indoors in the winter months. Some weeks, we have something to do every night. During the not so busy times, I enjoy getting together with friends and playing card games.

"As a single mom, I find it tricky sometimes to make everything fit together, and I am overly blessed to have such wonderful family and friends to support me. Somehow the job always gets done. I find this true even in my job with IPMG: it takes a team of people to get the job done. Hopefully, for years to come I can continue to motivate all people to work together and to have a common goal. Every day should be an "It's all good" kind of day."

If you would like to nominate your Case Manager for this award, please contact us or send an email to customerservice@gotoipmg.com.
May 2017: Carol McClurg
Carol McClurg was nominated for this award when she was a Case Manager, and she has since been promoted to Manager of Field Support within IPMG. Carol was nominated by the mother of three children for whom Carol provided Case Management services prior to her promotion.
"Carol it is not enough kudos! Seriously, your work ethic is stellar and your follow through is top notch! I could not find anything better in any case managers anywhere! I appreciate your patience as we work through what seems to be complicated children! You must shake your head and think good grief that mom is nuts! But you are always positive and always encouraging even when I screw up and miss an appointment! Thank you! I feel as if I found a friend and I feel blessed! You rock sister!"
Carol wrote, "Hi! My name is Carol McClurg. I have been a Case Manager since 2008. I love what I do – I can't even call it a 'job' – being a Case Manager is my Passion. I serve individuals in Whitley, Allen, Noble, LaGrange, Dekalb, and Wells Counties.
"I was born in Goshen, Indiana. I was the oldest of 4 children. My brother, Tim, who is two years younger than I am, was born with an intellectual disability. Tim is the reason I chose to go into this profession of serving people. I graduated from NorthWood High School in Nappanee. I then graduated from Manchester College (Manchester University) in North Manchester, Indiana. I have always lived in Indiana except for one summer when my husband, Andy, and I lived in Raleigh, North Carolina. We just call it our three month vacation!
"My degree from college was in Elementary Education with an endorsement in Special Education. I never taught in the public school, however. I was first employed by Passages as a Workshop Supervisor in 1982. I continued working in a variety of capacities from Workshop Supervisor, Respite Care Coordinator, Office Manager Assistant, Payroll and Accounts Receivable Coordinator, and Waiver Supervisor. I know that the many roles I had prepared me for what is a very diverse occupation as a Case Manager. I became a Case Manager with IPMG in 2008 and have worked here ever since.
"My husband, Andy and I have four children. Josh and his wife, Katelyn, live in Columbia City. Sarah and her husband, Bryan, live with their two children, Brendon and Madisyn, in Fort Wayne. Jamie and his girlfriend, Angela, live with her two children, Ethan and Jennifer, in Albion. Our youngest daughter, Emilie, lives with her husband, Greg, and three children, Trey, CC, and Oakley, in Tampa, Florida. As you can tell, we keep very busy with our seven grandchildren. They range in age from 18 months to 16 years old. We love being grandparents. Several times a year, Andy and I spend time in Cancun, Mexico. We so enjoy the warmth and gentle breezes coming off of the Caribbean."
Congratulations, Carol!
If you would like to nominate your Case Manager for this award, please contact us, or send an email to customerservice@gotoipmg.com.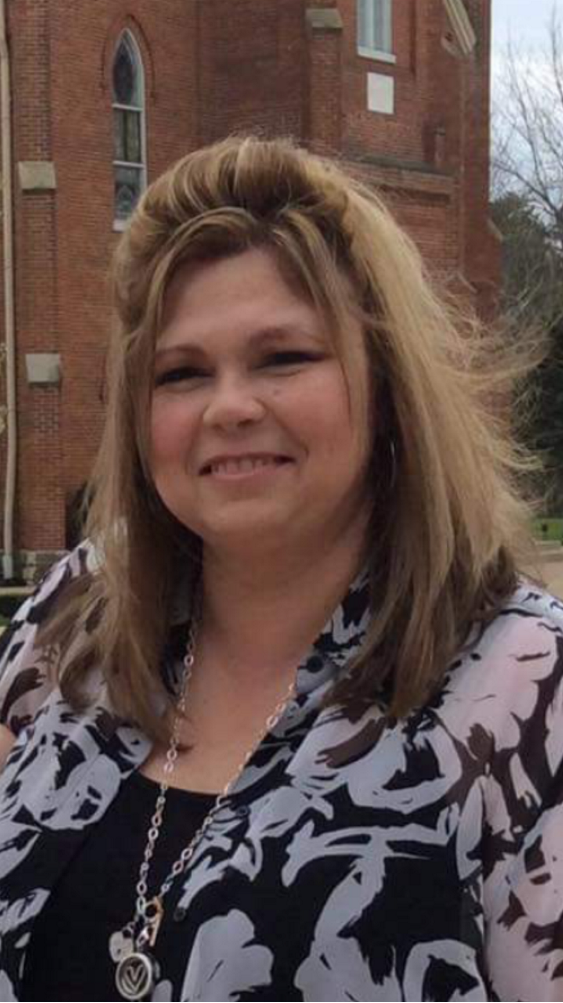 April 2017: Carol Monroe
Carol Monroe was nominated for Case Manager of the Month by the mother of an individual she supports:
In her nomination, Fairy Geiling wrote, "I would like to nominate Carol Monroe as CM of the month. She has gone above and beyond for our daughter and other clients she serves. Our daughter's and others' special needs are her top priority. Her integrity is outstanding! She has a very special gift to offer our loved ones.
"I have always prayed that God will send angels to help Rebecca with her disabilities, abilities and care as much as we do about her. Carol is one of those angels sent to us. Thank you IPMG and Carol for your caring and your dedication. I rest easy now days because of the angels sent to our only child."
Carol wrote, "What an honor it is to be nominated as Case Manager of the month!
"My name is Carol Monroe and have been married to my husband, Mike, for over 20 years. My husband is a supervisor for Owens Corning and we share a beautiful daughter, Bella, who keeps us very busy in all of her activities at Oldenburg Academy. From Theater Arts to tennis to dance and cheer, she is very involved in her school.
"After graduating from Ball State University with a Bachelor in Business and minors in Communication and Psychology, I moved back to Brookville to begin my career. Immediately feeling drawn to public service, I served as the County Auditor for over twelve years. This gave me the opportunity to work with many different people from many different walks of life while advocating for the taxpayers of Franklin County. After completing my term as the County Auditor, I was asked to continue serving by becoming the Public Health Coordinator for Franklin County. In this position, working with State and Federal Government for the betterment of the County became second nature to me. These opportunities laid the groundwork for the position I hold today as a Case Manager for Indiana Professional Management Group (IPMG).
"In September of 2011, I accepted the position of case manager with IPMG for Franklin County and the surrounding areas. Providing case management to individuals is truly a rewarding and fulfilling experience. Each individual I work with immediately finds their way into my heart. Working with families and advocating for the individuals I serve each and every day allows me to provide an unconditional commitment to support their pursuit of a self-determined life.
"In the little bit of free time I have, I love to bake, craft, and spend time with family and friends. I also enjoy volunteering along beside my daughter, Bella, with the individuals I serve. Having such a wonderful job allows me to be flexible with my time and enjoy the special moments with my daughter that a typical/corporate 8-5 job would not allow. Thank you to all that make this possible!"
If you would like to nominate your Case Manager for this award, please contact us or send us an email at customerservice@gotoipmg.com.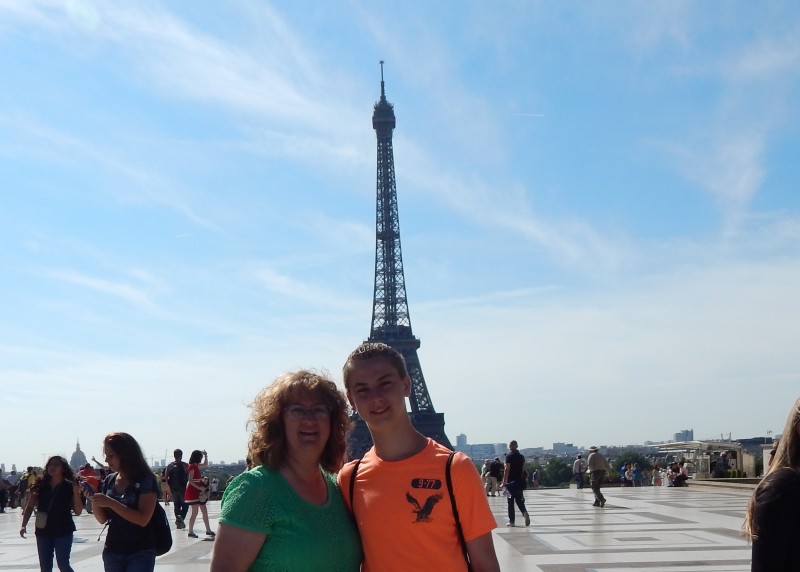 March 2017: Mary Stockton
Mary was nominated for Case Manager of the Month by the parent of an individual that she supports: "We are delighted with Mary and she needs to know not only what a great job she does, but also how much we love her and appreciate all her expertise and efforts. She's part of our 'team' and 'village.' It's refreshing as well as comforting to know we have someone who has our son's best interest at heart. Mary has been instrumental in finding out about and going after every possible service/program that would best benefit our son. We truly are grateful and appreciative. Without Mary, our son would not have the opportunities/services/funds he has today. His life is better because of Mary."
Hi, I am Mary Gray-Stockton. I have been a part of IPMG since September 1, 2006. I work in Lawrence, Washington, Crawford, Orange and Harrison Counties as case manager for CIH, FSW and A&D waivers.
I live in Bedford, Indiana with my son, Joshua. My introduction to working with others started around age 4 when my Grandmother took me to a local church for play groups. I learned years later it was a play therapy for special children and children who had physical needs. All I knew at the time was it was fun to be around new kids and I got to go to Dairy Queen when it was over.
I graduated from ISU with a BS in Elementary Education. My siblings all graduated from Purdue. This adds to the angst in my family. I started my professional career teaching special education at Aurora Middle School in 1987, where my sister was the "shop" teacher. She still is the "shop" teacher at South Dearborn HS. After 2 years teaching, I worked as a CPS case worker in Dearborn county, and then Lawrence County. As I live in Lawrence County, there are times I see the kids I worked with as several now have their own children. In 1992, I transitioned to Case Manager at Muscatatuck State Developmental Center. Although MSDC was extremely challenging physically and mentally at times, the foundation for my future was laid. I remember working 12+ hours as a case manager during surveys and seeing the Hale-Bopp comet driving west on HWY 50 for almost a week, night after night in 1997. I learned a lot and grew a lot in the 6 years at MSDC. I made friends for life and still have contact with many. It is comforting to know we are still making a difference in our folks' lives.
After a life altering car wreck outside my home in December 1998, I was not able to return to MSDC. I moved into waiver case management at Area Agency on Aging in September 1999. I enjoyed meeting and working with people in their community. In 1996, there were about 3,000 BDDS waivers and 100 Autism waivers. In 2001, when the state moved forward with the Support Services Waiver (now FSW), waivers increased. We worked overtime getting our waiting list cut down and a lot of children started receiving services while still in school. I found that my math and computer skills were going to be improved immediately. I was fortunate that budgets were completed on computer, no longer hand written. AAA 15 introduced me to many resources and agencies. It opened doors to my growth as a member of my community and as a case manager.
As 2006 came along, I was invited to join IPMG. I was thankful to be able to continue to "work" with my folks. I have watched families grow and flourish. I have experienced families losing members and families losing the individual. I have been with families when an individual moved out of their family's home. The individual did great and the rest of us needed support. Now I get to watch him grow.
My folks have been from 5 - 83 years old. And they all want the same thing, to live and be a part of their community.
I seem to have lived my life mostly along Indiana HWY 50. My family is very important to me. Bedford is my childhood town and I am so thankful to raise my son here and be close to my Mother and oldest brother. The first house I remember was a 3 room log cabin type home in the country with 2 rooms upstairs. We had one running faucet in the kitchen. Mom heated the water on the stove for baths. The bathtub hung on the back porch. We had a two hole outhouse. We were in the country and played outside most of the time. My Mom worked for USDA and transferred several times for promotions. We moved to more modern homes each time. I remember getting cable and air conditioning in the mid 1970s. And we had 2 phones! Holidays are big for my family. We all get together and end up acting like we did in the 70s.
I spent summers with grandparents, aunts, and uncles as my Mom worked. I found a lot to get into when I was left with my older siblings. I also had to learn to run fast. I ran with several cousins in the country, fishing, riding horses (or trying to stay on), camping, riding bikes /cycles, putting out crops/ bringing them in, and canning. One of my earliest jobs was putting out tobacco with 2 cousins for $.75 an hour---for all 3 of us. I made $.75 that day!!!!
As I am the youngest of 4, I learned a lot from my siblings. I learned what not to do and how to run fast. I still don't know how my Mom did it. She kept us all. She sacrificed a lot for us. She is great!
We lost my second brother suddenly March 1, 2012. I remember his words of wisdom and parenting advice. I hear him laughing when my son does something irritating, which is multiple times daily.
I am a flea market person from birth. I look for items from my childhood and items that remind me of my grandparents. Antiques were and are used by my family. I love finding Gulf items and red wooden handled cooking utensils and tools. Any old tool used in mechanics. My Granddad had a Gulf station and Grandmother had a restaurant. She made the BEST drop biscuits and blackberry jelly. I did not inherit her cooking skills but can tell you what is needed or what is wrong with any food. Unless it is turkey, ham or chicken. Ham is too salty and I don't do bird.
I have collected Occupied Japan figurines since I was 14. I also have numerous tables and mirrors in my home. I love mirrors and tables and so does my Mom. She often makes stealth attempts to take one. Joshua runs interference and Mom usually only ends up with him. And he likes to eat out, a lot.
My Mom values education and all four of her children are college graduates. Growing and improving was learned early in our family. We are "planning" my son's future and contrary to his belief, he is not getting my house or property when he graduates from college.
Many of my folks have watched my son grow up and enjoyed seeing him taller than me. They remember what we went through to get him and he was due 9/11/01. Joshua Gary Gray Stockton decided to arrive a month early, 2 days after my Mom's birthday on 8/12/01. My Mom picked his first name and his middle names are my oldest brother's name. I really think he had that planned to come on her birthday. At 15, he is 6'2". He knows he is tall and knows he can't hide. Now that his hair is longer than mine, many parents are really jabbing at me as they know my "hippie" ways and this is my payback. Now his discussions are driver's education.
We are part of a lot of activities at our church. I have been Miss Mary to many children on Wednesday evening services for 2-3 year old for almost 9 years. Ma
y start at 16 months as long as parents brought diapers and wipes. For these parents to have an hour "break" from their toddlers is the least I can do. However, I do provide Goldfish crackers and sometimes Fudge stripe cookies after painting our crafts. This is the time when I get my dose of hugs as 15 year old boys have to be made to hug their mother.
My son has been able to volunteer through church and school. He plans to volunteer with Special Olympics this year at his high school. He is hoping to be able to partner with my good friend's daughter.
Joshua and I moved into "city limits" in 2007. I welcomed trash pick up and pizza delivery! Our big adventure for 2009 was buying a home. We live about 5 minutes from my Mom and brother. Having MawMaw that close is yet another adventure in itself. In 2010, Joshua got a cat, thanks to MawMaw. I am allergic to cats.
I recently had 12 trees cut down; 11 of them were 80+ foot pine trees. Home ownership is never a dull moment.
Joshua and I spend our free time planning our next vacation. He has grand plans. It usually takes us a long time to make decisions and plans. Actually, about a week or less.
Joshua and I have traveled extensively since 2007. We have been to Disney twice, Gatlinburg, Myrtle Beach, England/France and last summer to Atlanta /Savannah.
Traveling to Europe was great and I am thankful. This was over a year in getting things ready and saving. He took 3 jars of coins to cash in for his spending money.
We traveled with good friends. We saw everything. We took the "Jack The Ripper" tour. We visited Stonehenge. We visited the Museum. We watched changing of the guard at Buckingham Palace. We rode the ferry across the English Channel. We stood on the beach at Normandy in June 2014 with our feet in the water. We have Normandy sand. We went up the Eiffel Tower at night. We went to Louvre and saw the Mona Lisa. We ate at McDonald's while the rest of the group went in Notre Dame.
My job is a life choice more than it is a job. My mind works differently than most people. Although a case manager's world is often about numbers, I don't live my live by numbers and neither do my folks. I get to work with families that are part of my life in my community, I don't have to, I get to."
February 2017: Tom Davis
Hello, my name is Tom Davis, and I am a Case Manager for IPMG in Marion County and a few surrounding counties. I graduated from Indiana University South Bend. In January of this year, I have entered my 8th year with IPMG, and am glad to be working for such a great company. This career has allowed me more freedom than I could have imagined, and don't think I could ever go back to the 8-5 office routine.
I have been married 6 years, and have a 3 year old boy and 2 year old girl. They are 14 months apart, for those wondering. I get to see my kids every day, and watching them grow has been the greatest benefit of being with IPMG. We moved from South Bend, IN to Indianapolis in 2014. This was a big change for our family, but we couldn't be happier with our new hometown.
I'm a very active person, and try to stay involved is as many things as possible. I have always had a drive to help people grow and allow them to achieve their full potential. I coach both my son and daughter in soccer, as well as coaching Special Olympics year-round. As a family, we love to travel and take part in the many activities and events that Indianapolis has to offer.
I look forward to many more years with IPMG!
If you would like to nominate your Case Manager for this award, please contact us or send an email to customerservice@gotoipmg.com.
January 2017: Kendra Heffelmire-Albersmeyer
My name is Kendra Heffelmire-Albersmeyer. I have been a case manager with IPMG since December 2013. I am a Purdue graduate with an undergrad degree in Psychology and a Master's in Business Administration. I serve individuals in Marion, Hancock and Hamilton Counties.

My husband and I live in Marion county with our two dogs and cat. We got married last summer and have been basking in the bliss of being newly married. We love to travel to new places local and abroad. In my "free" time I am an amateur photographer, which I do with a friend. I shoot weddings, family photos, senior portraits and landscape shots (when we travel). My husband and I also enjoy outdoor activities, Purdue tailgating, and spending time with friends.

My life centers around helping others, so working for IPMG has been a fantastic experience. I have been able to help those on my caseload live more independent and fulfilling lives and develop lifelong relationships. As a mastery level case manager, I have been given the opportunity to mentor new case managers coming out of the training department, complete the intake process for new individuals to the waiver, shadow new case managers during their first meetings, and cover caseloads to help ensure the individuals served by IPMG are getting the supports they need. I feel blessed to have worked with the individuals and families I have served and learn something new every day.

One of my favorite parts of this job is knowing I can reach out to any peer and they will be happy to help in any way they can! One thing I feel that is most important about my job is to keep in mind that others count on me to be the best I can be, and to always improve on my skills and knowledge. There is always something new to learn and a new challenge to take on with case management.
If you would like to nominate your Case Manager for this award, please contact us or send an email to customerservice@gotoipmg.com.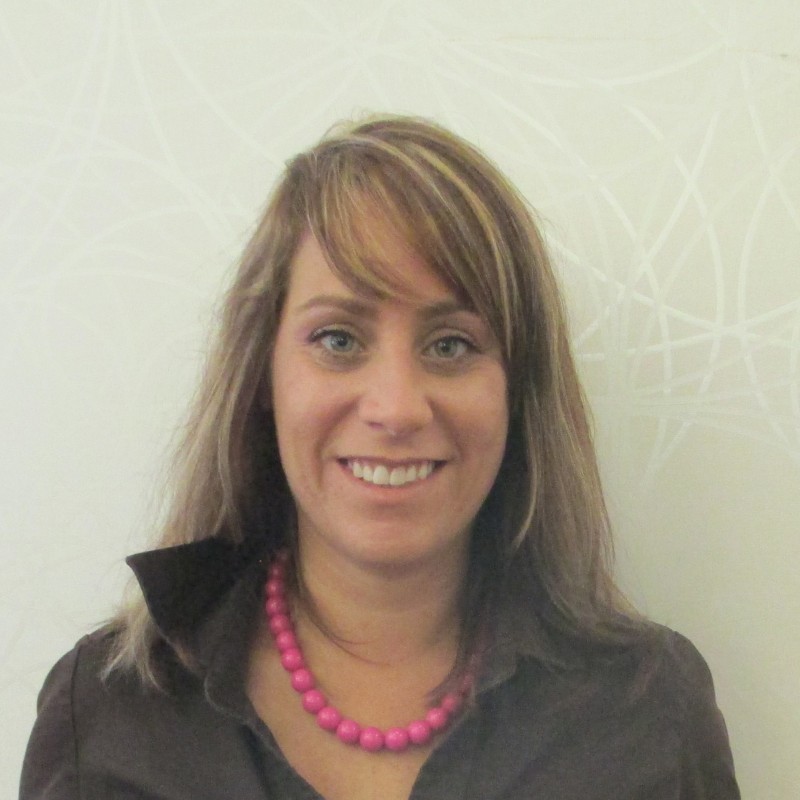 December 2016: Rochelle Russell
My name is Rochelle Russell. I have been working with IPMG since February 2007. I currently serve individuals in Marion and Johnson counties. I received my Bachelor of Humanities with a minor in Psychology from IUPUI in 2002. In my first year of college, I started working as a direct support staff with individuals on the Medicaid Waiver and worked in the restaurant industry until I graduated. When I graduated, I became a QMRP/Program Director for a residential provider. I also had opportunities to work in other capacities within the residential provider over the years. I was encouraged to apply with IPMG by the first Case Manager I worked with when I was a direct support staff. I recently started Peer Mentoring and have really enjoyed working and supporting new Case Managers.
I am married to my husband, Nathan. We will celebrate our 10th anniversary in August. We have three precious children, Andrew (16), Braylon (7) and Knox, who is 4. We also have a dog named Max and some fish. I love spending time with my family. We enjoy being outdoors, playing games, and traveling.
I am so thankful to have found my passion at an early age working with individuals with developmental disabilities. I love my role as a Case Manager. I love advocating and learning from the individuals and seeing them accomplish their goals and dreams. It's truly amazing to be part of the transformation of the Medicaid Waiver over the years, and the progress that Indiana has made integrating and enhancing the quality of life for those with developmental disabilities.
If you would like to nominate your Case Manager for this award, please contact us or send an email to customerservice@gotoipmg.com.
November 2016: Elizabeth Piazza
Hello, my name is Elizabeth Piazza. I am a proud alumna of Ball State University's Department of Social Work. I began working as a Case Manager with IPMG in 2012. I serve individuals who reside in Delaware, Jay, Madison and Henry counties. I enjoy building relationships with the participants I serve and the people that are important to them. I love helping the participants explore ways to use their talents and increase satisfaction with their lives. I see my role as a Case Manager as a place of privilege and responsibility. I am thankful to the individuals I serve and their families for allowing me into their homes and trusting me to help them reach their goals.
I have been married to my husband, Tony, for almost 11 years. We live in the great City of Muncie. We are proud to be parents to: Molly (9), Maggie (6) and Harrison (3). We love to travel and are always looking for new parks and playgrounds to explore. Last summer had a lot of fun visiting over 50 different parks in five states and then creating a "field guide" scrapbook with the kids' ratings of the parks. When I'm not working or at the playground, you would likely me find me behind my sewing machines, working in the garden, cooking or canning produce. I really love playing in the dirt and watching veggies grow. Over the summer, I gardened at home and with a group of Waiver participants at a community garden in Anderson. The more garden goodies the better!
I am very happy to be a part of the community that makes up IPMG. Thank you for taking the time to read a bit about me!
Elizabeth was nominated for this award by a Music Therapist, who wrote, "I wanted to nominate Elizabeth Piazza because she is wonderful at her job (not only the paperwork side, but she is very down to earth and genuinely involves her clients in her meetings). I feel like she has her clients' best interests in mind and is definitely a team leader who listens to all of her team members. She handles meetings professionally with a personal touch that is far above the average.
"I know that Elizabeth has also started a Garden Club in Madison County. I am just getting to know Elizabeth, as she is new to my team as of June 1st, but already am thoroughly impressed. Thank you for what you do Elizabeth!!!"
If you would like to nominate your Case Manager for this award, please contact us or send an email to customerservice@gotoipmg.com.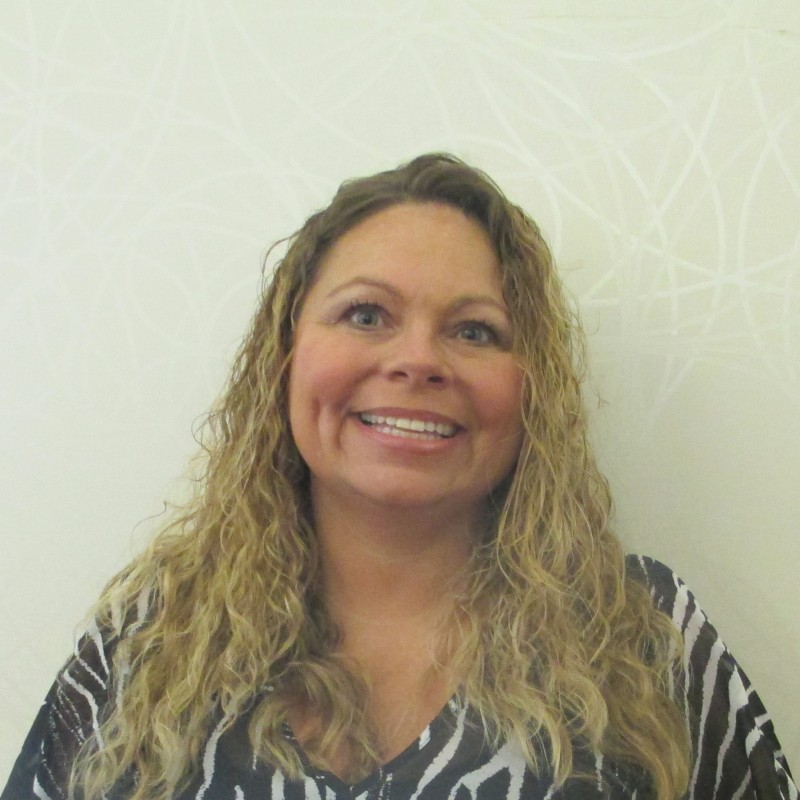 October 2016: Tracy Rice
Hello! My name is Tracy Rice. My journey into case management has been an interesting one. My degree is in education. I have taught, been the Assistant Director of Preschool and then taught special needs adults and children through a sheltered workshop. After leaving the workshop, I went to work for a residential provider where I was a Program Director. While working as a Program Director, I assisted in the moving of individuals from state facilities into a supported living setting. During this time of transition, the IPMG Supervisor working with providers suggested that I come to work for IPMG, so here I am! I celebrated my 5 year anniversary earlier this year.

Working as a case manager has been a wonderful experience, as I get to ensure individuals are being taken care of appropriately, working towards achieving their life goals and overcoming obstacles. At this time I have 59 wonderful individuals and their families on my caseload and work with a great case management team here in the south. I feel very blessed to have such wonderful folks allow me to be a part of their lives.

In my free time my favorite thing to do is spend time with my two kids and three grandkids, as they are the loves of my life. I have two dogs and two granddogs that I love as babies as well. I have
spent many hours making wreaths and other crafty projects. The grandbabies and I love spending time doing crafts and cooking. I also enjoy going to activities that the individuals I support participate in, such as the Smile Style Show, Dance Recitals, Buddy Walk, Cheer Shows and Special Olympics just to name a few.
If you would like to nominate your Case Manager for this award, please contact us or send an email to customerservice@gotoipmg.com.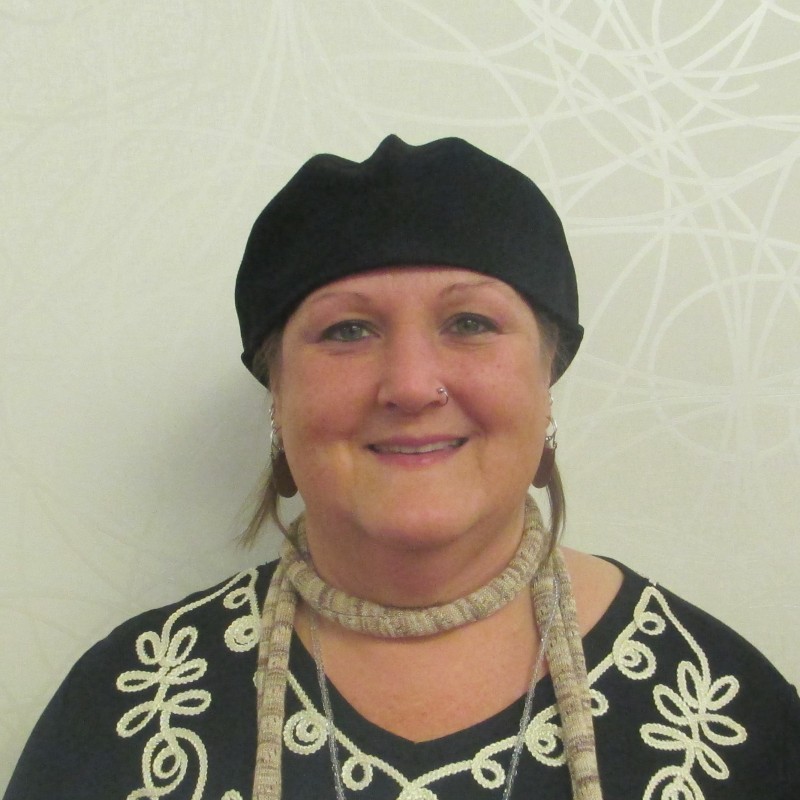 September 2016: Gretchen Littlefield
My name is Gretchen Littlefield and I have worked with IPMG since the start of the company in September of 2006. I graduated from Harding High School in Fort Wayne, Indiana. After high school, I began working at ESArc and then went on to graduate with a BS Degree in Music Therapy from Indiana University. I completed my internship at Charter Beacon Hospital (which is now known as Parkview Behavioral Health) working with people of all ages and diagnoses at the inpatient facility. During this internship, I continued working at ESArc in their group homes. I also worked at the ESArc workshop as a training supervisor during college.
After graduation in 1992, there weren't any positions open in the area for a Music Therapist and I wanted to stay in Fort Wayne. So, I went to work for First Steps as a Developmental Therapist and Service Coordinator through ESArc. I loved working with families and their young children, ages 0-3, and teaching them about parenting, supporting their children with special needs, and offering care and support for the whole family.
Then I met someone with whom I fell in love. I married David Littlefield in April of 2000 and moved to Rhode Island. I worked for Newport County Mental Health and for the Maher Center, which was an ARC facility. After my hubby retired from his position as chief of Middletown Fire Department, we moved back to Indiana in 2004.
I started working for ESArc again, as a Waiver Case Manager. I loved being a Case Manager so much that I decided I would stay with the career choice, and didn't end up pursuing a job as a Music Therapist any longer. However, I support the field completely and get to see it work wonders with the individuals I support as a case manager. That is exciting! I was happy to be hired by IPMG in 2006, when the state decided that I could no longer work for ESArc and be a Waiver CM. So I made the move!
My job is the most difficult job I've ever had, but the most rewarding. I love working with my clients and their families and learn so much from them, as well. Advocating for them at all levels and helping their families do the same, when possible, is what gives me the most pride. I love living my life's mantra that ALL LIFE IS SACRED. I get to do that in my job, by making my clients and those around them understand that they are important and valuable to this world.
In my free time, I do the same-advocating for humans and non-humans alike. I am a Vegan and a mother of two sweet dogs: Kenny, a spoiled Chihuahua, Jack, a sweet, chubby Beagle, and Stanley, a Betta Fish. I'm also a step mother to Jacqueline, who lives in Las Vegas with my 5 wonderful grandkids. I love being in my home, enjoying the fruits of my husband's gardening skills, and the comfortable home we have made for ourselves.
Gretchen was nominated for CM of the month by the guardian of an individual on her caseload. Gretchen's Manager, Tony Hakel, writes, "Gretchen has a very strong commitment to ensuring the people she works with have their needs met. Although situations may have their challenges Gretchen is always willing to do whatever it takes to advocate for these needs. She is a great asset to the individuals she works with and to IPMG."
If you would like to nominate your Case Manager for this award, please contact us or send an email to customerservice@gotoipmg.com.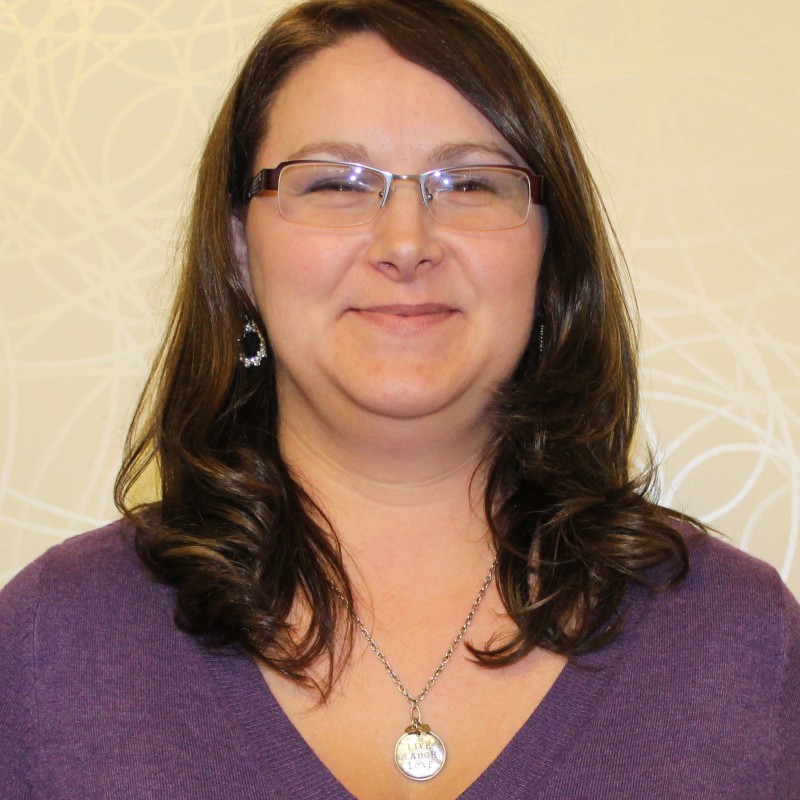 August 2016: Alicia Garber
Hello! My name is Alicia Garber. I grew up in rural Clinton County, where I enjoyed being a part of a small, close knit community. I attended Ball State and Indiana University, majoring in Psychology and Criminal Justice, and received my Bachelor of Science Degree from Indiana University in 1999.
Upon graduation from IU, I was employed as a Case Manager at the Dunn Center in Richmond, Indiana and worked with children with mental health conditions. I then moved to Kokomo, Indiana and had my first son, Alexander, in 2000. Alexander was born prematurely and has significant medical needs, so I began my "disability journey." Through networking with other parents of children with special needs, I co-founded the Autism Resource Center of Kokomo (ARCK), which allowed me to further assist families while developing lifelong friendships. I became a First Steps Service Coordinator working with families of children 0-3 with developmental delays and had my second son, Aidan Thomas, in 2004.
I enjoyed furthering my knowledge base and advocating for my 2 children who both received Early Intervention and Special Education Services. I was employed by About Special Kids, and spent significant time connecting families of individuals with disabilities with special needs to community resources.
In 2012, I began working for IPMG and have enjoyed developing relationships with other families of individuals with special needs and assisting individuals to advocate for themselves and connect with community resources. There is nothing more fulfilling than watching an individual reach their dreams.
After a busy two years filled with a wedding and the subsequent birth of my 3rd son, our family has enjoyed some down time. During down time, I enjoy watching movies and reading and spending time with my extended family.
A mother of one of Alicia's waiver participants sent the following email to IPMG's customer service: "Our case manager Alicia Garber, Kokomo, IN has gone above and beyond in assisting us with our son's care. She contacts us on a regular basis, responds quickly to emails, answers questions if she can, and if she can't, she contacts someone who can. We especially love her caring personality with JR. She bends over backwards to arrange meetings around my busy work schedule. She is sooooo appreciated!"
If you would like to nominate your Case Manager for this award, please contact us or send an email to customerservice@gotoipmg.com.
July 2016: Pam Morton
Hello. My name is Pam Morton, and I live in Auburn, Indiana. I've been a Case Manager for IPMG since March, 2008.

I grew up in Minnesota, and graduated from St. Cloud State University with a degree in Special Education. I started college as an Art major, switched to Speech Pathology, and then made the transition to Special Education. While in college, my father was transferred and the family moved to Canada, and then to Missouri, so I was on my own. I taught for a few years in the Wayzata/Minnetonka School District, but was laid off due to a cut in Special Education funds. I then started working as a Vocational Placement Specialist at St. Paul Rehabilitation Center. While working as a Veteran's Counselor with the University of Minnesota, I completed graduate level coursework in Psychology and Criminal Justice. My career took a turn, and I became a Training Coordinator with Twin Cities Opportunities Industrialization Center, and then a Program Director for Multi Resource Center. I moved to upstate New York, where I lived for four years. I worked in Human Resources for a telecommunication company, and then became a Supported Living Director/ Coordinator with Montgomery County ARC. This was a wonderful pivot point to the upper East coast, and allowed me to travel to Maine, Vermont, Massachusetts, Connecticut and New York City. Later, I moved to Fort Wayne, and was an Employment and Training Specialist and Trainer for JobWorks for thirteen years. One of my coworkers from JobWorks went to work for IPMG, and suggested I apply. I interviewed with Kevin Griffith, and the rest is history.

My mother and nephew still reside in Minnesota, and my remaining younger sister works for the University of Missouri in Columbia, as a Senior Academic Advisor. I lost my sister Mary in 2013 to cancer. We shared a birthday, even though we were two years apart. Mary had epilepsy and a learning disorder, which I believe is why I have worked the majority of my career in this field. I have been married, but could not have children, so I spoiled my nephew. I have been single for several years, and have realized that I do just fine on my own. My dad taught me to be self reliant, and that was a gift. He also taught me how to fish, and I do miss not having that opportunity very often. My family had a lake home in northern Minnesota where we would spend our summers, and it was a beautiful, relaxing place. I was heartbroken when it was sold. Growing up in the northern tundra, you learn how to skate and ski at early ages. I did both, and continued to ski/race until my knees got old! I visit my mom every summer, and sometimes over the holidays, depending on the weather. It's a 10-hour drive, but very much worth it. Although Minnesota will always be home, its high tax base and high cost of living make it very hard to ever think of moving back.

I have totally enjoyed working with IPMG. I have wonderful individuals on my caseload, and teams who work very well together to make sure our consumers have the best supports. I have worked with most of the individuals I support from the start, and enjoy them all. They teach me something new all the time, through their bravery, persistence, and their wonderful sense of humor. Looking at the world through another's eyes is the best insight there is. When an individual, Guardian or family member says "Thank you" for something I have helped them with, my feeling is always, "Thank you for allowing me to be a part of your life." It has been a privilege.

If you would like to nominate your Case Manager for the Case Manager of the Month award, please contact us or send an email to customerservice@gotoipmg.com.
June 2016: Leslie Norwine
Hello, my name is Leslie Norwine. I am a Purdue grad with a Bachelor's in Science. I am a Senior Case Manager with IPMG. I have opportunities to shadow new case managers as a Meeting Specialist, support others by being a Mentor and complete waiver service intakes when needed. I have been with IPMG since 2011 and I love my job. I service Northwest Indiana including Lake, Porter, Jasper and Newton Counties. The best part of my job is finding out what the individual desires and then getting their waiver services and team organized, everything running smoothly, everyone knows each other on the team and the team / services are functioning like a well oiled machine. That process can take a little time but that is my goal with every case I support. The best way to support someone is to have great communication among all supporting agents and a common goal, the happiness of the individual.
I am married to my best friend, my hubby Scott. We have a son, Zander, who is 12. As a family we love all things nerdy. We are big fans of reading, science and history. We LOVE The Lord of the Rings and Hobbit stories. We have The Lord of the Rings Trivial Pursuit, Zander and I could beat anyone, anytime at the game!! We also have a Dungeons and Dragons game that we do on Friday nights. It is so much fun to spend time together. Next year for our local Comic-Con I am trying to get the boys to dress up in costumes with me and enter into a contest but they think I am going a little too far.
I have lots of hobbies. I am starting to think I have "hobby ADD". I make wine. I am learning to play the guitar. I have a half knitted scarf that is calling for me to finish it. I love to run and lift weights. I am always reading a few books at a time. I enjoy hiking and have a hiking trip planned in September to Yellowstone National Park with a friend.
Thank you for taking time to get to know me a little and I look forward to maybe meeting you some day! If you see me around, say "Hi!"
If you would like to nominate your Case Manager for the Case Manager of the Month award, please contact us or send an email to customerservice@gotoipmg.com.
May 2016: Shannon Imel
My name is Shannon Imel and I have been working with IPMG since October 2013. I currently serve individuals in Marion, Hendricks, and Johnson counties.
I got my Bachelor of Science Degree in Elementary and Special Education from Indiana University in 2003. Prior to working with IPMG, I worked in a Special Education classroom for 7 years. I then worked at a residential provider for 2 years.
I am married to my husband John. We will celebrate our 10th anniversary this year. We have two wonderful children, Jackson who will be 7 this year and Addison who will be 4 this year. We also have two dogs, Belle and Jasmine.
I chose to work in case management because I wanted to be able to make a difference in an individual's life. I have found that by being a case manager, I get to learn about the individuals that I work with and some of the extraordinary opportunities that they have been given. I work with one individual who did a food drive at the hospital where she volunteers because she saw that the food pantry was running low. I work with another individual who was published in a book that celebrated Down syndrome and got to go to New York City for a Buddy Walk. I have witnessed other individuals get jobs out in the community and feel more a part of society. I have also seen individuals branch out and explore the community that they live in.
Case Management can be difficult, but the rewards of the individuals I serve are what keep me going. The smiles on their faces as I walk into their meetings brightens my day and that of all the people around them.
If you would like to nominate your Case Manager for the Case Manager of the Month award, please contact us or send an email to customerservice@gotoipmg.com.
April 2016: Petra Stewart
Petra Stewart was nominated by the mother of an individual she supports. The mother told Petra's manager, "She works wonderfully with me and she's wonderful with my son. She explains everything to me. I just can't say enough about her."

Hi, I am Petra Stewart, and I have been with IPMG since February 2015. I was born and raised in Germany, and received a Business Degree from the Friedrich List Business School in Munich. I also attended Hotel Management School for two and a half years because my brother (a chef) and I planned to run our grandmother's bed and breakfast on a much bigger scale than she did. Since staying in a hotel is very different than working in a hotel, I gave that career up basically as soon as I graduated. I was looking for something more meaningful. I became a nurse's assistant and worked in a Nursing home for several years. I loved it there!

After I got married to an American Soldier, we moved to Fort Riley, Kansas in 2001. I did not know what to do here in the States. I looked on the internet to see what I could find that was similar to being in the Nursing home. I stumbled on something called "Big Lakes Developmental Center." As soon as I walked into that facility, I knew that this was the right place. In my 5 years there, I worked as Direct Care Staff, as well as an "in-house-crew" supervisor in the sheltered workshop. This was my first experience with individuals with intellectual disabilities.

When we moved to Indiana, I found an opportunity to work as Program Director for a Residential Provider. During my almost 8 years there, someone who knew the German education system suggested I should get my Masters Degree. After long deliberation whether or not I should try this, I decided to apply. I was so scared; I had never set foot into an American school! Once I applied and submitted my transcripts from Germany, I was told I did not even have the equivalent of a High School Diploma, as all my schools were considered vocational schools! I was pretty upset at the time, but then very motivated. I got my GED attending evening classes and then spent my next four years as wife, full time student, full time employee, and full time mom to three children.

My husband is a Corrections Officer in Plainfield, and my kids go to school in Pike Township. My boys (13 &16) love to play video games with Daddy, and basketball with the neighbor boys. My daughter (15) is all about show choir and cheerleading. I love working for IPMG as it allows me to be here when they get home from school. The kids enjoy doing their homework in the office with me.

Being able to provide the care for the individuals we serve on different levels is amazing. It brings me so much joy to know that I can help in different ways. I am able to explain things to families, and make sure their loved ones receive the best services they possibly can. I truly feel that I found my niche by being a Case Manager. I am able to use the knowledge I gained from previous capacities in this entity as well, which I feel is helpful to me being the best I can be. The knowledge I have gained in this position so far seems to bring what we do into a full circle and I can relate, understand, and explain.

Since I was promoted to be my family's personal chauffeur this past year, there is little time for actual hobbies. So in my spare time, I like to keep it simple. I enjoy cooking and baking with my daughter (we do that a lot), playing with my three dogs, and watching HGTV. These shows make me want to get creative! I am also a master in Bubble Mania. :-)
If you would like to nominate your Case Manager for the Case Manager of the Month award, please contact us or send an email to customerservice@gotoipmg.com.
March 2016: Mandy Norton
Hello. My name is Mandy Norton, and I live in Sellersburg, Indiana. I've been honored to work for IPMG since its inception on September 1, 2006.
I grew up in Jeffersonville, Indiana, and graduated from Providence High School in 1997, followed by a Bachelor's degree from Indiana University Southeast in Psychology. I lived in Augusta, Georgia and Nashville, Tennessee for a short time, but always seemed to return "home." I actually went into college with a plan to work with animals, so I started off with a Biology degree. Once I took a few 200 level chemistry classes, I knew that plan might just not work for me. I ran across a Psychology 101 class and was hooked. Prior to working in case management I was a counselor for a therapeutic after school care program, working with troubled children in foster care, Learning Disabilities, etc. at Maryhurst in Louisville, Kentucky. A friend of mine with whom I shared some classes along the way told me about this glorious job, working with people with disabilities, working from home, and making my own schedule. I couldn't believe there was such a perfect job for me.
So, I began working as a case manager in 2001, the day after I graduated. I haven't looked back since! I worked for Independent Case Management, and saw nothing short of miracles every day, from the people I worked for, co-workers I was blessed to work with, and the help that families received through the waiver program. When we got word that the state wanted to go under one roof, I never even flinched. I knew this job was for me, and I couldn't see myself doing anything else.
Family is everything to me. I am one half of a fabulous twin duo! Mindy and I are the bestest of friends! I have one younger brother, Matt, and my parents, Terry and Norita are still married and celebrating 42 years of marriage. I have one 10 year old daughter, Madelyn, and I feel extremely lucky to call her mine (minus before school diva meltdowns on occasion). She's into volleyball right now, but we've done everything from dance to gymnastics and cheer. So, we're trying to pinpoint which sport we'll be sticking to.
This job has truly been a blessing. Being a single mom, the flexibility is priceless. It allows me to go to school functions, be here at home when Madelyn gets off the bus (most of the time), go get a workout in at my gym without taking away from family time, etc.
My clients are the ones who drive me to do the best I can. We have so much power and ability to make their lives mean something. Having a voice to advocate for someone who doesn't has been beyond rewarding. When you have established, strong teams supporting your caseload, you are able to see everything from a client look for a community job for years and then land a job she loves, to rooting on a client who qualified for World Games in Special Olympics for golf in LA! Big and small, these accomplishments mean just as much to me as they do to them. I've worked with most of my clients for 12+ years, so we really do feel like family! I really do believe that having a job that makes you want to get up and do your best has a domino effect into the rest of your personal life. So, thank you, IPMG, for allowing me to work for you, be a voice for those who don't have one, and helping me achieve to be the best I can be! I am eternally grateful!
Mandy was nominated by her Manager, Dana Kean. Over the past couple of years, Mandy has served as Mentor and Coverage Specialist, temporarily covering several cases in the area and is willing to serve as Meeting Specialist when needed.
Individuals and guardians say that Mandy is "doing a good job," "she's terrific," "is calm, easy to work with, very efficient," and that they "enjoy working with her."
If you would like to nominate your Case Manager for the Case Manager of the Month award, please contact us or send an email to customerservice@gotoipmg.com.
February 2016: Christina Patrick
Hi! My name is Christina Patrick. I joined IPMG in March 2012. I graduated from Columbia City High School and International Business College with a degree in Business Management. After graduation, I obtained a position with Pathfinder Services in Huntington, Indiana. I worked in day services and direct care in a group home for about 4 years. I enjoyed my time at Pathfinder Services but wanted to look for more opportunities in the same field. Currently, through IPMG, I serve individuals in Huntington and Allen Counties. I enjoy watching those that I serve learn new things, make goals and achieve them, and live up to their potential.
My husband, Rodney, and I have been married for 6 years and have 3 children, Rachel, Emily and James. We have a Rottweiler named Charlie, a fish, a rabbit named Berta, a couple of ducks, and a bunch of chickens. In my free time, I enjoy taking trips on our motorcycle and spending time with my family.
Christina was nominated for Case Manager of the Month by Manager of Field Support Francis Jomo. Francis wrote, "I had the privilege of covering Christina's caseload while she was on maternity leave. Her caseload was very easy to cover. It was well organized, and she has excellent case notes. All of her documentation is up to date. In addition, parents, guardians, individuals, and the team members she serves spoke very highly of Christina. They raved about how knowledgeable and professional she is and how happy they are to have her as a case manager. Christina is an excellent representation of IPMG and greatly deserves to be recognized for her efforts."
If you would like to nominate your Case Manager for the Case Manager of the Month award, please contact us or send an email to customerservice@gotoipmg.com.
January 2016: Marie Luce
Hi! My name is Marie Luce and I have worked as a Case Manager for IPMG since August 2007. I graduated from Purdue University in 1997 in Chemical Engineering. I have worked as a Process Engineer in Texas and as an Environmental Engineer in Indiana. Once my husband and I got married and had kids, I decided I wanted to be home more with our family. A friend of mine worked at IPMG and thought I would enjoy this job. I love working with the individuals and families to get the outcomes they are wanting in their lives.
I enjoy working with so many people and families to be able to get what they want for themselves and/or their loved one. As a case manager, I use problem solving skills and work with the team to fill the needs of each person. Watching individuals succeed each day with many odds against them is the best part of my job. I love seeing my individuals and hearing all that they have been doing since I saw them last and all the plans they are making.
I love the flexibility of my job that I am able to be home for my kids when needed and work from home. My husband and I have 5 kids ages 7-13 and they are very active. I am able to get my kids on and off the bus each day, help with homework and get ready for the evening activities. Our kids are currently in cross country, basketball, softball, dance, gymnastics, baseball, baton, and volleyball. They keep us busy and we love every minute with them.
IPMG allows me to help individuals succeed and take care of my family!!
If you would like to nominate your Case Manager for the Case Manager of the Month award, please contact us or send an email to customerservice@gotoipmg.com.